Pro
// Monday, 04.03.2019
Edwards: Most points amongst all DEL-defenseman
Maury Edwards has finished the main round as the league's defenseman with the most points. He summed up 38 points, as much as Iserlohn's Dylan Yeo, but managed to get title having scored more goals. He scored twelve times (ex aequo with Cologne's Morgan Ellis).
Larry Mitchell signed Edwards this summer, having coached him in Straubing for two years. Ingolstadt's sports director says: "Maury and his family fit in perfectly. We are really happy to have them."
Edwards, a 31-year old defenseman from Rocky Rapids, Alberta, Canada, is a humble guy thanking his team for the success. He is only the second Ingolstadt Panther to win this competition.
DEL: Most points by defenseman / Season

1994/95 Greg Johnston (Kassel) 44 Punkte
1995/96 Jörg Mayr (Cologne) 46 Punkte
1996/97 Roger Öhman (Kassel) 47 Punkte
1997/98 Chris Snell (Frankfurt) 39 Punkte
1998/99 Chris Snell (Frankfurt) 51 Punkte
1999/00 Shane Peacock (Munich) 52 Punkte
2000/01 Shawn Anderson (Iserlohn) 45 Punkte
2001/02 Cory Laylin (Iserlohn) 49 Punkte
2002/03 Jeff Tory (Hamburg) 46 Punkte
2003/04 Brad Schlegel (Cologne) 47 Punkte
2004/05 Pascal Trepanier (Nuremberg) 54 Punkte
2005/06 Jeff Tory (Düsseldorf) 46 Punkte
2006/07 Jamie Pollock (Nuremberg) 54 Punkte
2007/08 Deron Quint (Berlin) 51 Punkte
2008/09 Deron Quint (Berlin) 48 Punkte
2009/10 Marty Wilford (Iserlohn) 41 Punkte
2010/11 Sascha Goc (Hannover) 51 Punkte
2011/12 Chris Lee (Mannheim) 45 Punkte
2012/13 Andreas Holmqvist (Cologne) 50 Punkte
2013/14 Fredrik Eriksson (Nuremberg) 46 Punkte
2014/15 Richie Regehr (Munich) 40 Punkte
2015/16 Patrick McNeill (Ingolstadt) 39 Punkte
2016/17 Shawn Lalonde (Cologne) 34 Punkte
2017/18 Yannic Seidenberg (Munich) 34 Punkte
2018/19 Maury Edwards (Ingolstadt) 38 Punkte
Dies könnte sie auch interessieren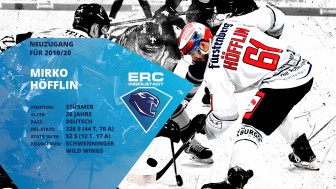 Sun, 10.03.2019 // Pro
Signing for 2019/20: Mirko Höfflin
Topscorer of league rival Schwenninger Wild Wings ...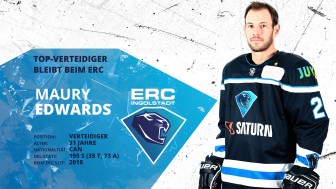 Wed, 09.01.2019 // Pro
Contract extension: Maury Edwards
Leading all DEL-defenders in points ...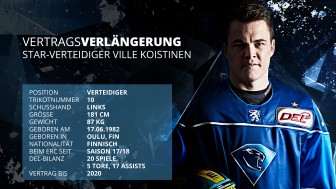 Thu, 17.05.2018 // Pro, Fans
Contract extension: Ville Koistinen
Star defender of the Panthers ...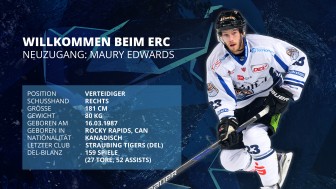 Thu, 19.04.2018 // Pro
Contract: Maury Edwards
Offensive minded defenseman ...