Pro
// Monday, 17.07.2017
ERC signs key-player Mouillierat
ERC Ingolstadt and Kael Mouillierat have agreed on a contract for the upcoming season. The 29-year old, NHL-experienced forward is a native from Edmonton, Canada, and played with Luleå HF (SHL) in the past season. According to Sports Director Larry Mitchell, Mouillierat is planned as a top-6 winger due to his high quality game. The 1,83 meter tall and 85 kg heavy forward has proved he knows how to score but also accepts to sacrifice for his team with hard work and shot blocking. He therefore will posses a key-role in the team, both in 5-vs-5 or 4-vs-4 on the ice.
Mouillierat should see quite familiar faces on DEL-ice with several players all over the league he has played with or against in AHL and NHL. "I looked out most of the rosters and I know at least one player in the most of the teams. A friend of mine, Dustin Friesen, plays with Ingolstadt. He said, it is a great place in a nice area and he added, that the fans very really supportive and loud. We have a new GM, he's got high expectations. I am looking forward to coming to Ingolstadt."
Kael Mouillierat will dress the jersey with number 22.
With this key-player-signing, ERC Ingolstadt has completed its roster for the upcoming season.

Kael Mouillierat – Career
2006-2010 Minnesota State University Mankato (NCAA)
2009-2013 Idaho Steelheads (ECHL), Texas Stars, Bridgeport Sound Tigers und St. John's IceCaps (alle AHL)
2013-2014 St. John's IceCaps (AHL)
2014-2015 Bridgeport Sound Tigers (AHL) und New York Islanders (NHL)
2015-2016 Wilkes-Barre/Scranton Penguins (AHL) und Pittsburgh Penguins (NHL)
2016-2017 Luleå HF (SHL und Champions Hockey League)

Kael Mouillierat – Highlights
2010 NCAA (WCHA) All-Academic-Team
2010 ECHL Rookie des Monats (November)
2011 Berufung ins ECHL All-Rookie-Team
2011 Berufung ins ECHL All-Star Game
Our roster for 2017/18
Goalies: Jochen Reimer, Timo Pielmeier.
Defenders: Patrick McNeill, Fabio Wagner, Benedikt Schopper, Dustin Friesen, Matt Pelech, Benedikt Kohl, Sean Sullivan, Simon Schütz.
Forwards: Brandon Buck, Jacob Berglund, Mike Collins, John Laliberte, Brett Olson, Petr Taticek, Brock Trotter, Christoph Kiefersauer, Kael Mouillierat, Thomas Greilinger, Darin Olver, Joachim Ramoser, David Elsner, Dennis Swinnen, Laurin Braun.
Coaches: Tommy Samuelsson, Clayton Beddoes, Fabian Dahlem, Maritta Becker.

Dies könnte sie auch interessieren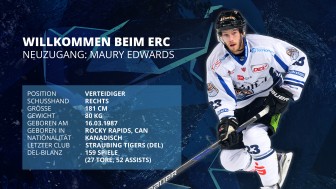 Thu, 19.04.2018 // Pro
Contract: Maury Edwards
Offensive minded defenseman ...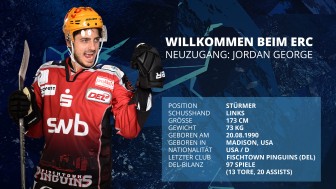 Wed, 11.04.2018 // Pro
Contract: Jordan George
Fast forward played lately for Fischtown Pinguins ...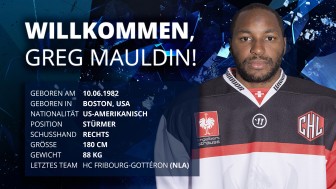 Tue, 15.08.2017 // Pro
Signing: Greg Mauldin
US-American forward ...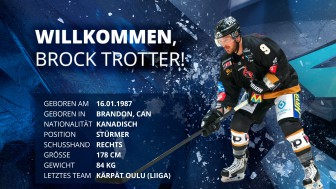 Sun, 09.07.2017 // Pro
Signing: Brock Trotter
Offensive minded player ...