Pro
// Tuesday, 20.06.2017
Signing: Laurin Braun
ERC Ingolstadt and Laurin Braun have agreed on a contract for the upcoming season 2017/18. The 26-year old forward played with Eisbären Berlin for in complete eleven years and looks "for a new challenge, where I can grow and take the next step in my career. Ingolstadt looks like the right plays for it and the Panthers are, not only because of the Championship in 2014, a super organization in German hockey."
Braun (179cm, 78kg) has won four championships with Berlin plus the European Trophy. He has played in Champions Hockey League as well as with the German national team. Sports Director Larry Mitchell sees him as a flexible and hard working forward that has a lot of experience in penalty killing.
Laurin Braun will dress the Panther-jersey with #91.
ERC Ingolstadt: Roster for 2017/18
(As on: June 202017, in order by numbers)
Goalies: Jochen Reimer, Timo Pielmeier.
Defenders: Patrick McNeill, Fabio Wagner, Benedikt Schopper, Dustin Friesen, Matt Pelech, Benedikt Kohl, Sean Sullivan, Patrick Köppchen, Simon Schütz.
Forwards: Brandon Buck, Jacob Berglund, John Laliberte, Brett Olson, Petr Taticek, Christoph Kiefersauer, Thomas Greilinger, Darin Olver, Joachim Ramoser, David Elsner, Dennis Swinnen, Laurin Braun.
Coaches: Tommy Samuelsson, Fabian Dahlem.

Dies könnte sie auch interessieren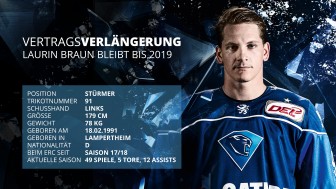 Wed, 28.02.2018 // Pro
Contract: Laurin Braun
One more year ...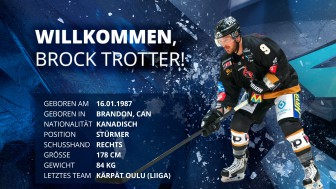 Sun, 09.07.2017 // Pro
Signing: Brock Trotter
Offensive minded player ...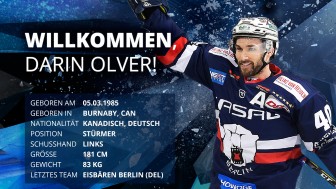 Tue, 06.06.2017 // Pro
Olver joins, Oppenheimer leaves
Mitchell happy with the commitment of the center ...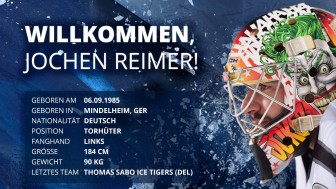 Wed, 31.05.2017 // Pro
ERC signs Jochen Reimer
Outstanding goalie-duo Pielmeier/Reimer ...