Pro
// Wednesday, 31.05.2017
ERC signs Jochen Reimer
ERC Ingolstadt and goalkeeper Jochen Reimer have agreed on a contract. The 31-year old Bavarian played for Nuremberg in the last three seasons. Sports director Larry Mitchell has arranged the deal and is happy to have a very strong goalie-duo with Reimer and Timo Pielmeier.
Reimer has played in 316 DEL-games so far (91,8 % SVS). He was awarded twice as DEL-goalkeeper of the year. "I saw that there is quite something heading into a great direction right now in Ingolstadt", Reimer says. He and his wife Brooke will also be involved in the youth-programm of ERC Ingolstadt. Brooke Reimer will even work as a coach with the young panthers. "The Reimers are great people", says Mitchell.
With Pielmeier and Reimer, ERC goes for a strong goalie-duo. Both goalies are looking forward to being in the same team.
Pielmeier says: "It is very positive for the team to have two strong goalies. Some teams already have that system and it works if you look at the top-teams in the last two seasons."
Reimer who knows how it is being part of a goalie-duo from Wolfsburg and Nuremberg says: "I only have good ideas on that. It gives you extra motivation every day and makes sure we have a fresh goalie in every game who can win you games, no matter who is between the pipes."
Mitchell adds, that with regards at the schedule in the upcoming Olympic season, freshness could be a huge factor.
ERC Ingolstadt: Kader für 2017/18
(as on May 312017, arranged according to the jersey number)
Goalies:
Jochen Reimer, Timo Pielmeier.
Defenders:
Patrick McNeill, Fabio Wagner, Benedikt Schopper, Dustin Friesen, Matt Pelech, Benedikt Kohl, Patrick Köppchen, Simon Schütz, Sean Sullivan.
Forwards:
Thomas Oppenheimer, Brandon Buck, Jacob Berglund, John Laliberte, Brett Olson, Petr Taticek, Christoph Kiefersauer, Thomas Greilinger, Joachim Ramoser, David Elsner, Dennis Swinnen.
Coaches:
Tommy Samuelsson, Fabian Dahlem.
Dies könnte sie auch interessieren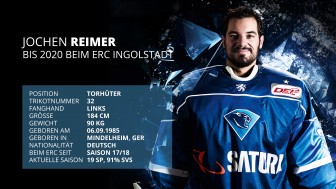 Fri, 26.01.2018 // Pro
"The Joker" with ERC till 2020
Jochen Reimer is part of the strong goalie-duo ...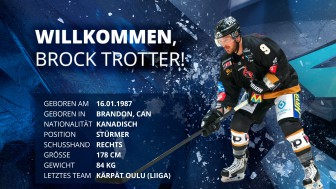 Sun, 09.07.2017 // Pro
Signing: Brock Trotter
Offensive minded player ...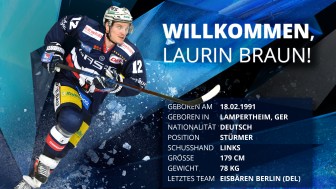 Tue, 20.06.2017 // Pro
Signing: Laurin Braun
Ambitious 26-year old forward ...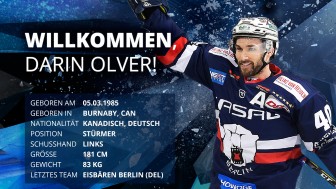 Tue, 06.06.2017 // Pro
Olver joins, Oppenheimer leaves
Mitchell happy with the commitment of the center ...