Pro
// Wednesday, 12.07.2017
Pielmeier selected for goalie camp
The German national team starts into the Olympic season. The selected goalies, amongst them: Timo Pielmeier from ERC Ingolstadt, open with a camp (July 16-20) in Füssen. The German federation DEB named 56 candidates at the German Olympic Federation DOSB, 29 of them got the call from Marco Sturm to Heidelberg. The national team coach will test their fitness from July 23-26.
Timo Pielmeier, goalie of ERC Ingolstadt: "I am happy to have been invited to the goali camp. We have qualified for Pyeonchang last year and it would be a dream, to participate in the Olympic tournament in February."

Roster of the goalie camp
aus den Birken (München), Brückmann (Wolfsburg), Endras (Mannheim), Niederberger (Düsseldorf), Pielmeier (Ingolstadt)

Roster of the skater camp
Defenders: Abeltshauser (München), Ebner, Daschner (beide Düsseldorf), Krueger (Bern), Krupp (Wolfsburg), Jo. Müller (Berlin), Mo. Müller, Zerressen (beide Köln), Reul (Mannheim).
Forwards: Y. Ehliz, P. Reimer, Pföderl (alle Nürnberg), Eisenschmid (St. John's IceCaps), Fauser (Wolfsburg), Flaake, Hager, Kahun, Mauer, Y. Seidenberg (alle München), M. Goc, Kink, Plachta, Wolf (alle Mannheim), Gogulla, Uvira, F. Schütz (alle Köln), Oppenheimer (Berlin), Pietta (Krefeld), F. Tiffels (Western Michigan University).

Dies könnte sie auch interessieren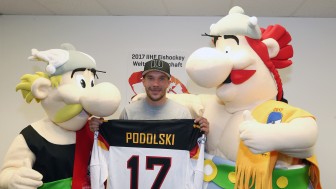 Fri, 21.04.2017 // Pro, Nationalmannschaft
Soccer-star Podolski promotes IIHF World Championships
World champion and nice guy ...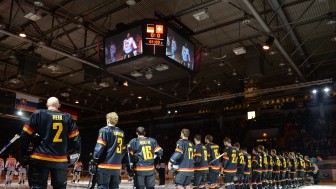 Thu, 03.11.2016 // Pro, Nationalmannschaft
Deutschland Cup 2016
Four nations go for gold ...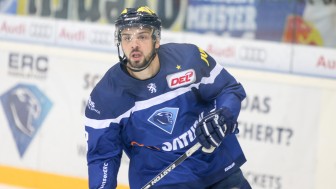 Fri, 07.10.2016 // Pro
Oppenheimer in front of 500th DEL-game
Big game on Sunday ...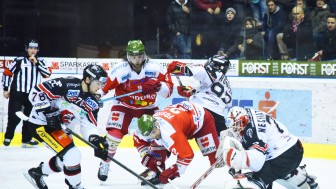 Sun, 21.08.2016 // Pro
Game in Bolzano pre-poned
On Saturday ...