LUK - ERCI 1:3
// Saturday, 10.09.2016
Panthers strike back in Rauma
ERC Ingolstadt ends its season in Champions Hockey League with a 3:1-away victory. Due to hard work and focus on details, coach Tommy Samuelsson said, the Panthers beat last seasons's semifinalist Lukko Rauma.
Rauma, the better team in the first period, had a quick lead: Heikki Liedes made it 0:1 after six minutes. The Panthers outworked the opponent in the second period and scored three times. Brandon Buck with the backhand (33.), Darryl Boyce in powerplay (35.) and Petr Pohl after a Taticek-assist (38.) turned the game.
"This win was important for us. Not only for being our last game in CHL this season - we knew we had no more chance to qualifiy for the next round - but also regarding the start of the German league next friday."
The Panthers then will face Schwenninger Wild Wings in Saturn Arena (faceoff 7.30 pm). Before the game, legend Jakub Ficenec will lift his jersey under the roof. Join the show! Tickets availible: https://eventimsports.de/ols/erc

Dies könnte sie auch interessieren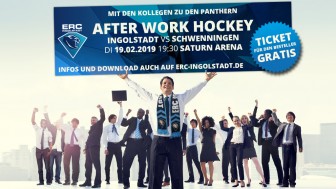 Wed, 09.01.2019 // Pro, Tickets, Fans
After-Work-Hockey on Feb 19
Information ...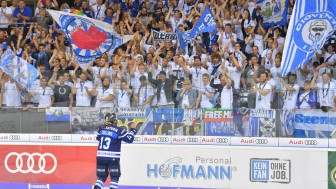 Sun, 16.09.2018 // ERCI - KEV 7:4
11 goals in home-opener
First weekend of the season ...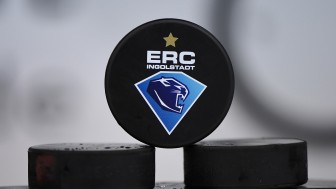 Tue, 07.11.2017 // Pro
Samuelsson released
Press release ...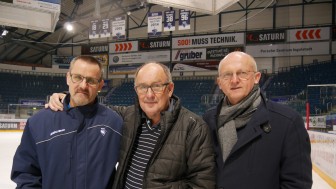 Tue, 24.01.2017 // Pro
Coaching legend Öst visits Ingolstadt
Fostered Panther-coach Tommy Samuelsson ...
CHL
Goals
1:0 Heikki Liedes (6.) EQ
1:1 #9 (33.) EQ
1:2 Darryl Boyce (35.) SH1
1:3 Petr Pohl (38.) EQ
Referee
REF: Anssi Salonen / Ladislav Smetana
LM: Pasi Nieminen
LM: Masi Puolakka
Penalty minutes
Rauma: 12 min.
Ingolstadt: 10 min.
Ad
Goals
- Lukko Rauma vs. ERC Ingolstadt
Goal
Time
Scorer
1st Assistent
2nd Assistent
SS
1 : 0
5:06
Heikki Liedes
Eetu Koivistoinen
Joose Antonen
EQ
1 : 1
32:12
#9
Martin Buchwieser
#15
EQ
1 : 2
34:31
Darryl Boyce
#9
#34
SH1
1 : 3
37:09
Petr Pohl
#17
Brian Salcido
EQ
Penalty minutes
- Lukko Rauma vs. ERC Ingolstadt
Penalty
Time
Player
Argument
Start
End
2 min
8:12
Thomas Pielmeier
Ellbogen-Check
08:12
10:12
2 min
9:36
Rony Ahonen
Behinderung
09:36
11:36
2 min
20:18
Jeese Virtanen
0
20:18
22:18
2 min
28:42
Thomas Pielmeier
Stockschlag
28:42
30:42
2 min
34:23
Sami Lahteenmaki
Bandencheck
34:23
34:31
2 min
34:23
#2
Übertriebene Härte
34:23
36:23
2 min
34:23
Janne Niskala
Übertriebene Härte
34:23
36:23
2 min
52:29
Janne Niskala
Beinstellen
52:29
54:29
2 min
57:49
Brian Salcido
Übertriebene Härte
57:49
59:49
2 min
57:49
Thomas Pielmeier
Übertriebene Härte
57:49
59:49
2 min
59:11
Sami Lahteenmaki
Übertriebene Härte
59:11
61:11
Player stats
LUK
Player
SOG
+/-
ERCI
Player
SOG
+/-
Aaron Gagnon
0
0
Thomas Oppenheimer
0
0
Valentin Claireaux
0
0
#9
0
0
Sami Lahteenmaki
0
0
Darryl Boyce
0
0
Toni Suuronen
0
0
#11
0
0
Atte Makinen
0
0
Martin Buchwieser
0
0
Toni Koivisto
0
0
#17
0
0
Lauri Tukonen
0
0
Danny Irmen
0
0
Janne Niskala
0
0
#21
0
0
Eetu Koivistoinen
0
0
Brian Salcido
0
0
Kaapo Kahkonen
0
0
Marco Eisenhut
0
0
Simo-Pekka Riikola
0
0
Petr Pohl
0
0
Peter Tiivola
0
0
#34
0
0
Antti Karjalainen
0
0
Jean-Francois Jacques
0
0
Joose Antonen
0
0
Thomas Pielmeier
0
0
Jeese Virtanen
0
0
Timo Pielmeier
0
0
Ilmari Pitkanen
0
0
#61
0
0
Lukko Rauma
ERC Ingolstadt
Jean-Francois Jacques
0
0