Pro
// Wednesday, 27.07.2016
Kiefersauer joins Panthers
ERC Ingolstadt has signed talented forward Christoph Kiefersauer for 3+1 years. Jiri Ehrenberger, director sports of ERCI, says with regard to the 18 year young Kiefersauer: "Christoph is one of the best U20 players of Germany. He already has a great vision of the game. We want to support him to grow and become a good DEL-pro."
Kiefersauer who has played until now for his native Bad Tölz where he impressed DEL clubs with his scoring ability. "We have been in contact in spring already", says Ehrenberger. "Back then, our partner club ESV Kaufbeuren fought to remain in DEL2, so we could not ensure him where exactly he could develop in the upcoming season." Kiefersauer therefore joined Hamburg Freezers which later published that they will cease operations. Kiefersauer follows Martin Buchwieser and Thomas Oppenheimer from Hamburg to Ingolstadt.
It it planed that Kiefersauer will be in training with the Panthers Tuesday and Wednesday, then go to Kaufbeuren to join ESVK for further practices and games. Ehrenberger: "Christophs first task will be to develop and prove himself in DEL2."
The youngster says: "It is nice that it worked out with ERC Ingolstadt. I want to show up with good effort in training camp and be an option for the Panthers in DEL." Christoph Kiefersauer who currently is playing in the Summer Hockey Challenge for the German U20 will dress the Panther jersey with number 21.
Roster of ERC Ingolstadt (As on: July 27, 2016)
Goalkeepers: Timo Pielmeier, Marco Eisenhut.
Defenders: Patrick McNeill, Fabio Wagner, Benedikt Schopper, Dustin Friesen, Brian Salcido, Benedikt Kohl, Patrick Köppchen, Simon Schütz.
Forwards: Thomas Oppenheimer, Brandon Buck, Darryl Boyce, John Laliberte, Martin Buchwieser, Petr Taticek, Danny Irmen, Marc Schmidpeter, Christoph Kiefersauer, Petr Pohl, Thomas Greilinger, Thomas Pielmeier, David Elsner.
Coach: Tommy Samuelsson.

Dies könnte sie auch interessieren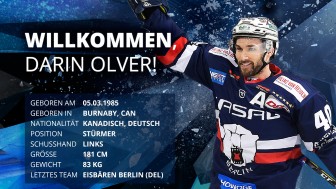 Tue, 06.06.2017 // Pro
Olver joins, Oppenheimer leaves
Mitchell happy with the commitment of the center ...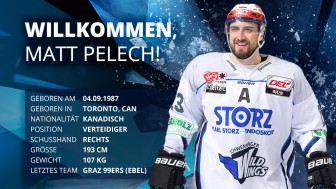 Tue, 23.05.2017 // Pro
Matt Pelech joins ERC
Hard working defender comes from Graz 99ers ...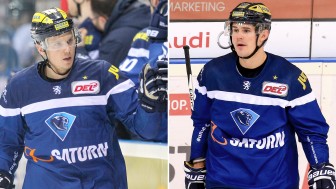 Mo, 03.04.2017 // Pro
Irmen and Buchwieser leave Ingolstadt
Further contract talks with Darryl Boyce postponed ...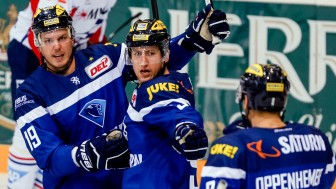 Wed, 19.10.2016 // Pro, Tickets
Ticket sale for all games till January 6
Starting today ...