Pro, Fans
// Thursday, 31.08.2017
Vinschgau Cup about to start
Faceoff tomorrow, 8 pm: The international icehockey tournament Vinschgau Cup in Latsch (South Tyrol) is about to start. Three well known European teams run for the cup: ERC Ingolstadt (Germany), Black Wings Linz (Austria) and Färjestad BK (Sweden).

The teams
Ingolstadt Panthers are in Latsch since Monday for training camp. "The location is great for us", says coach Tommy Samuelsson whose team had six preseason games (four wins) so far. Stars of the team are Patrick McNeill
Linz arrives on Thursday, starting in the league like Ingolstadt on the second weekend of September. Under the new headcoach Troy Ward, the Black Wings showed great form so far in preseason beating four times DEL-teams.
Färjestad also arrives on Thursday, preparing for a big season under the new headcoach Johan Pennerborn. The team is built with Northern-European players only and has e.g. beaten Swedish rival Frölunda Indians in preseason.

Schedule
FRI, September 01, 8pm: Ingolstadt - Linz (IceForum, Latsch)
SAT, September 02, 4.30pm: Linz - Färjestadt (IceForum, Latsch)
SUN, September 04, 4.30pm: Färjestadt - Ingolstadt (IceForum, Latsch)

Further highlights
Next to hitchhiking and mountainbiking in the beautiful nature of South Tyrol, the two fanpartys will highlight the weekend. The first one is right after the opening game (including a fan-club challenge), the second one takes place after the Saturday match (player presentation). Both partys are at Festhalle Latsch (next to AquaForum).

Tickets
Tickets are available at Tourismus Office Latsch and at the ticket office at the IceForum (opening 2 hours before the game starts). Prices: adults 10€ the game, 27€ for all three games. youth (8-17 years) 7,5€ for the game and 19,5€ for all three games. Kids up to 6 years have free entrance.

Dies könnte sie auch interessieren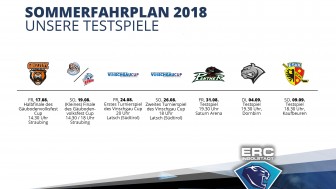 Wed, 23.05.2018 // Pro
Pre-Season-Programm
Seven games to heat up for the new season ...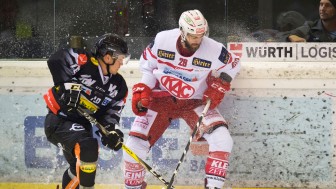 Mo, 14.05.2018 // Pro
Vinschgau Cup: Three teams announced
Ingolstadt, Köln, EC-KAC are comepting ...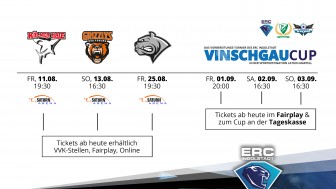 Wed, 26.07.2017 // Pro, Tickets, Fans
Tickets for Vinschgau Cup & Pre-season
Prices and sale points ...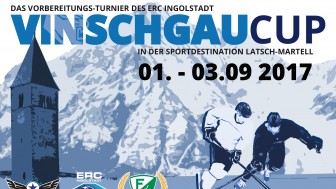 Fri, 26.05.2017 // Pro, Tickets, Fans
Vinschgau Cup with Färjestad BK
Swedish top-organisation faces Ingolstadt and Linz ...