Pro
// Wednesday, 22.02.2017
Four goals in one game
What a game! Brandon Buck has scored for goals in one game, with ERC Ingolstadt beating Düsseldorfer 7-2. He is only the third player in the DEL-history of the organization to reach this mark. The first Panther to score for goals in one game was Thomas Greilinger on March 28 2012 (6:1-win in Düsseldorf, quarter finals). Then, John Laliberte summed up the same number on January 11 2014, when Ingolstadt beat Schwenningen 11:2 in Saturn Arena - record-win.
Brandon Buck is topscorer of ERC Ingolstadt with 42 points (13 goals, 29 assists) in 44 league games.
Best numbers per game for Ingolstadt
Most goals: 4 (each Thomas Greilinger, John Laliberte, Brandon Buck)
Most assists: 5 (each Christoph Gawlik, Derek Hahn)
Most points: 5 (four players)
Most saves: 65 (Jimmy Waite)

Dies könnte sie auch interessieren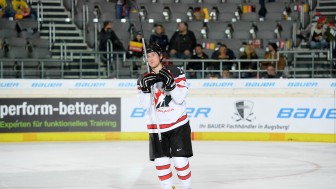 Thu, 10.08.2017 // Pro, Nationalmannschaft
McNeill & Buck win bronze
Tournament in Sochi with Team Canada ...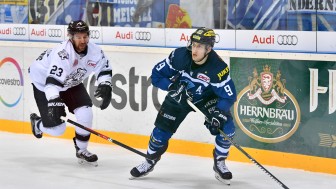 Wed, 01.03.2017 // Pro
Buck is DEL-player of the week
Selected by Eishockey News ...