Pro, Tickets, Fans
// Wednesday, 25.01.2017
Retro Day versus Mannheim
"Let's do it, that will we tons of fun", says Claudius Rehbein. The director of marketing of ERC Ingolstadt is talking about the Retro Day on January 29, aside of the game versus Adler Mannheim.
The Panthers will play the seven-time champion in a special retro-style jersey. The music will play evergreens, there will be clips full of memories on the video cube and there is more to be...
Every fan that comes in a jersey older than of the championship season 2013/14 can participate in a lottery with the game worn jersey of Danny Irmen as a main price.
Tickets for this and further Panther home games are availible under https://eventimsports.de/ols/erc

Dies könnte sie auch interessieren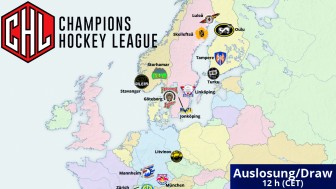 Tue, 08.09.2015 // Pro, CHL
Today: CHL-draw for 32 teams
Ingolstadt's possible opponents ...