Pro
// Wednesday, 30.11.2016
Köppchen and Kohl with milestone-games
Patrick Köppchen and Benedikt Kohl will have milestone-games this Friday. Facing Nuremberg, Köppchen will play his 900th and Kohl his 500th DEL-game. "It's going to be nice", says Kohl who also defends for the German nationalteam. "We try to celebrate together, getting points from one of the top-teams this year."
Only eight players in the history of Deutsche Eishockey Liga (DEL) have already played more than 900 games: Mirko Lüdemann, Nicki Mondt, Daniel Kreutzer, Klaus Kathan, Sven Felski, Rob Leask, Andreas Renz und Tino Boos. Only Düsseldorf's Kreutzer, currently out with an injury, is still active. "It is an huge honor to be amongst this group of great guys", says Köppchen. The 36-year old defender has given his debut on January 27 in 2001, playing for Munich versus Augsburg. In 2010 with Hannover and in 2014 with Ingolstadt, the Berlin-native won the DEL-championship.
Kohl had his first appearance in DEL on March 8 2008 in the jersey of Adler Mannheim, playing Krefeld Pinguine. The defender made it to the finals twice, 2010 with Augsburg and 2015 with Ingolstadt. "500 games is huge", says Kohl. "However, it is a long way to the club of the 900 and 1000. I have a lot of respect for Patrick making himself a home there. Big up!"

Dies könnte sie auch interessieren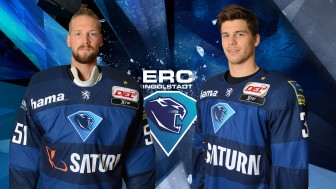 Thu, 31.03.2016 // Pro
Two Panthers for Team Germany
Timo Pielmeier and Benedikt Kohl in the roster ...