Pro, CHL
// Monday, 02.05.2016
Opening game versus Sparta Prague
Sparta Prague will come to Saturn Arena for ERC Ingolstadt's season opener on August 6 2016. "Sparta is rich in tradition and one of the best names in European hockey", says Jiri Ehrenberger, director sports of ERC Ingolstadt. "They have a strong and athletic team and give us directley a good competition to start into 2016/17."
Prague won eight titels in Czech Republic / CSSR and succeded in international championships such as Spengler Cup. Last season, Sparta reached the 1/8-finals in Champions Hockey League and made it to the final round in Czech Extraliga. In the CHL-draw that takes place this Tuesday (noon CET, livestream under www.championshockeyleague.net), Sparta has been set in pot 1.
With Robert Sabolic, Prague has a Meisterpanther (champion with Ingolstadt in 2014) in his line-up. Jan Pribyl and Jan Buchtele are amongst Extraliga's best scorers and play for the Czech national team. Ehrenberger says: "The fans really can expect a strong and considerable opponent and can be happy to see their new Panther-team playing together for the first time."
After the game, the season opening party will take place, players presentation and autograph session included. More details will be announced. The game is for free for everyone with the Season ticket 2016/17. For more information, go to www.erc-ingolstadt.de/tickets/dauerkarten
Important dates in the next months
As on May 2 2016:
May 3: Draw of Champions Hockey League-Gruppen (noon, Zurich, Livestream under www.championshockeyleague.net)
Juli 31: Players and coaches hand out season tickets to fans
August 1: Start of preperation in team
August 6: Season opening party with a friendly versus Sparta Prague
August 8: Start of trainings camp in Latsch/South Tyrol
August 12 - 14: Vinschgau Cup in Latsch versus Black Wings Linz (EBEL) & Langnau Tigers (NLA)
August 16: First point game in Champions Hockey League
September 16: First DEL game in Saturn Arena

Dies könnte sie auch interessieren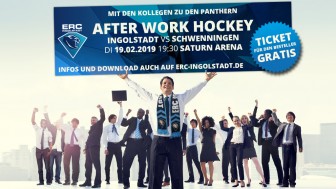 Wed, 09.01.2019 // Pro, Tickets, Fans
After-Work-Hockey on Feb 19
Information ...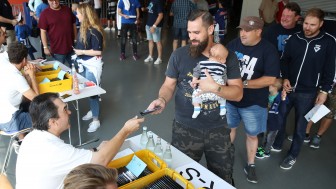 Mo, 13.08.2018 // Pro, Fans
Pics: Season opening
Best of ...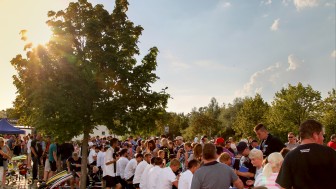 Fri, 06.07.2018 // Pro, Tickets, Fans
Season opening on August 11
Big family fest next to Saturn Arena ...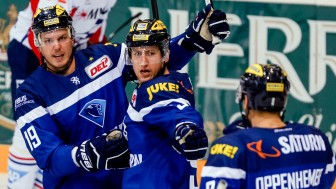 Wed, 19.10.2016 // Pro, Tickets
Ticket sale for all games till January 6
Starting today ...