Pro
// Friday, 06.05.2016
Panthers extend with Thomas Pielmeier
Thomas Pielmeier has extended his contract with ERC Ingolstadt. The forward has signed for one more year.
"Thomas is a hard worker that sacrifies for the team", says Jiri Ehrenberger, director sports, on the 29-year old forward. "He did his job, as winger as well as center. The fans like his passion and his down-to-earth-attitude."
Thomas Pielmeier joined the Panthers one year ago, coming from Schweninnger Wild Wings. In Ingolstadt close to his hometown Deggendorf, he plays aside of his brother Timo who will start with Team Germany into the World Championships on Saturday.
ERC Ingolstadt: Roster for 2016/17 (As on May 6 2016)
Goalies: Timo Pielmeier, Marco Eisenhut.
Defenders: Patrick McNeill, Fabio Wagner, Benedikt Schopper, Dustin Friesen, Brian Salcido, Benedikt Kohl, Patrick Köppchen, Simon Schütz.
Forwards: Brandon Buck, John Laliberte, Petr Taticek, Danny Irmen, Marc Schmidpeter, Petr Pohl, Thomas Greilinger, Thomas Pielmeier, David Elsner, Alexander Barta.
Coach: Kurt Kleinendorst.

Dies könnte sie auch interessieren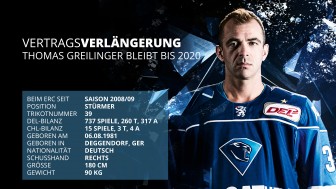 Fri, 03.11.2017 // Pro
Topscorer Greilinger extends contract
Best scorer of ERC in DEL-years ...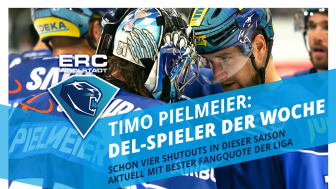 Tue, 17.10.2017 // Pro
Pielmeier is DEL-player of the Week
Second award for the goalie in this season ...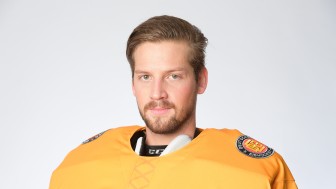 Wed, 12.07.2017 // Pro
Pielmeier selected for goalie camp
Roster of Germany's ...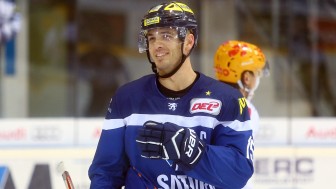 Fri, 13.01.2017 // Pro
Superstar Laliberte signs for 2017/18
US-American is one of the best forwards of DEL in the last 10 years ...